If you are looking for a product that offers you extensive features without being too heavy and also efficient, then our Dasmesh (912) Tractor Driven Combine Harvester is an ideal solution for you. Based in Punjab, we are manufacturers, suppliers, and exporters of the same. And understanding farming needs, we bring to you an exclusive tractor that is fairly priced.
Specifications :
Tractor mounted easily with help of Railing without any dismanting and comfortable for Driving.
Steeing System is very convenient to operated.
Spares are available easily.
Free spare parts & tool kit with combine.
Warranty : Full Warranty for first harvesting season or 50 days of harvasting whichever is completed earlier.
Note : As per policy of continous development specifications and performence can be changed without any prior notice.
Special Features :
Heavy Duty and Mild Steel Hubs.
Right hand side operating lever's for comfort use.
Split type pulley's for easy dismanting.
CNC Grinded Shafts to increase bearings life.
Wide 7" Elevator's to avoid chocking.
Folding Thresher and Guide Drum for easy dismanting.
Less weight and chain type drive suitable fot wet land.
Unbreakable worms made from special steel.
Test Report Tractor Driven Combine Harvester (912) (Tested by Govt. of India Ministry of Agriculture)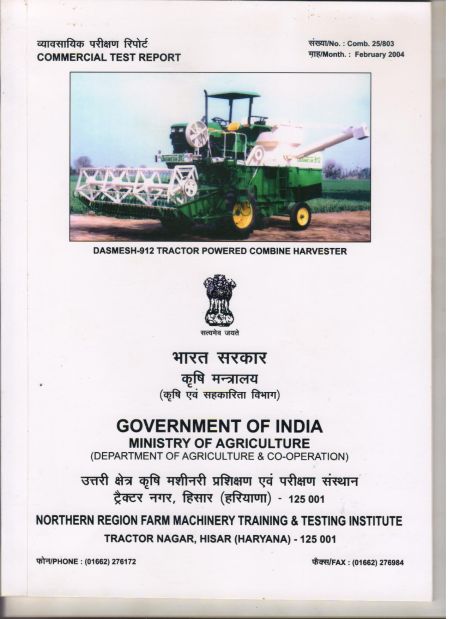 Technical Specification
| | |
| --- | --- |
| Chassis | 1168 mm |
| Straw Walker | 5 Nos |
Cutting Mechanism
| | |
| --- | --- |
| Cutter Bar With | 3657 mm(12 Feet) |
| Cutting Height | 55-1000 mm |
Tyres
| | |
| --- | --- |
| Font | 16.9-28 12 PR |
| Rear | 7.50x20, 8 PR |
| Trailer | 6.50x20, 8 PR |
Overall Dimensions (In Transporting)
| | |
| --- | --- |
| Length | 10990 MM |
| Width | 2650 mm |
| Height | 4010 mm (Without Canopy) |
| Minimum Ground | 420mm |
| Clearance Weight | 6854 Kg (Working Condition) |
| Tractor Require | Minimum 55 To 75 HP |
Cutting Capacity
| | |
| --- | --- |
| Paddy | 1 Acres approx. 1 to 1.5 |
| Wheat | 2 Acres approx. 2 to 2.5 |